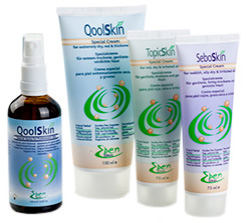 By purchasing or using EdenSkin or associated products you confirm that:
1.You are at least 18 years old, and of legal age to purchase this product in your jurisdiction.
2.You are the owner, or a legally designated user, of the payment instrument used to purchase the EdenSkin product or any associated product.
3.You shall not resell EdenSkin without written consent from the company.


You further agree to the following:

USE OF PRODUCT
The product will be used only according to instructions provided with the product, in a manner consistent with the application of topical cosmetic products. EdenSkin products are not for use by pregnant women, children under two years of age, or by a person with an allergy to any of the ingredients listed on the product. Edenskin products are not to be used on open wounds.
By purchasing or using EdenSkin or associated products you agree with the terms and policies.
DISCLAIMER
For the USA: The FDA (United States Food and Drug Administration) has not evaluated statements made on websites, advertisements, or communications related to EdenSkin products. EdenSkin products are not intended to diagnose, cure, or prevent any disease.
If a condition persists, please contact your health care provider. The information and products provided by this website or associated partners is not a substitute for a face-to-face consultation with a health care provider, and should not be construed as medical advice.
Testimonials on this website are true individual cases. However, this does not guarantee similar results in all cases.
RETURN POLICY
If you are not satisfied with your purchase, you may return un-opened bottles or tubes of EdenSkin products, in their original packaging, for your full purchase price less S&H charges, within 30 days of original shipment. Your account will be credited once we have received the returned shipment. In the event of a damaged shipment, we will gladly re-ship your order at no charge.
Promotional materials are not refundable, and have no refund value.